WALL Radio Middletown NY
Return to the
Powerhouse Radio Airchecks
WALL Radio 1340 AM in Orange County, New York is about 90 miles north-west of New York City. Real community radio. The perfect spot for an early radio job (from the early 1970s) as you'll hear.
Here is Kingsley H. Smith on WALL Radio 1340 AM Middletown, NY
Bonus: WALL Radio Turkey Shoot Contest 1973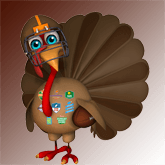 Contest time during the Thanksgiving season. A great way to give back. The player picks a DJ. That DJ's recorded audio segment is played on-air taking a shot at the poor turkey. Whoever is on the air (live DJ) doesn't know the random sequence of recorded shots (a hit or miss) being fired.
Return to the Powerhouse Radio Airchecks