Alicia Keys - Tears for Water
previous music book review | next music book review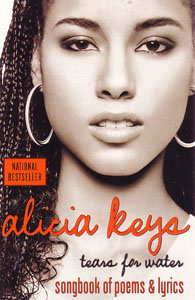 April, 2006 | Alicia Keys: Tears for Water | In hardcover since November 2004, and paperback since November 2005, "Tears for Water" is a glimpse inside the soul of Alicia Keys, through her own words.
She dedicates the book "for all who believe in the power of words and their potential to heal." Tears for Water is a combination poetry slam and lyric collection, with what Alicia calls her most delicate thoughts, some originally written for her eyes only.
She's poured through her journals and notebooks to share lots of her early prose, never recorded, plus we're given the full lyrics to all of the tunes in "Songs in A Minor," and "The Diary of Alicia Keys."
We don't get a timeline of when each item was written, but part of the fun in reading through the material is guessing at what stage of her life she put her thoughts on paper. One assumes that with more maturity comes more emotional depth in expressing feelings.
Alicia does provide some background information after certain poems, letting us know all about themes and characters.
Here's an excerpt from a longer piece she calls "Everywhere is Nowhere:"
"I've made my home in many places
From New York streets and subway seats
to London's cold and foggy sleets
From hotel rooms in the biggest suites
to motels sick with dirty sheets
In smoky clubs, that barely fit 104
to the largest stage of screaming more!
I've slept quite hard on buses and trains
with daily trips on wide-winged planes
and some days I've often felt very strange
cause something's missing..."
These are strong images from the mind of Alicia Keys. Tears for Water is a national bestseller, and an intimate look into the heart of a talented writer - performer.
Review written by Kingsley H. Smith for the Powerhouse Radio Newsletter