A Tribute to Frankie Crocker
(1937 - 2000)
written by Cleo Rowe
Frankie Crocker
I have many stories to tell about radio personality Frankie Crocker, but this one stands out as the one that began my career.
It's not hard to write about a person who I had a crush on. Not the school girl sort of a crush but, an on-the-air "Disk Jockey" I want to be like you when I grow up kind of a crush. That person was Frankie Crocker.
The man who put "more dips in your hips, more glide in your stride, Mr. do it to it.
As a teenager in Queens, New York, I grew up listening to the Super 16 - 1600 AM WWRL dj's. Folks like Gregory in the morning, Hank Spann "the soul server," "golden voice" Jerry Bledsoe, and all night Gary Byrd.
Listen to Hank Spann open his show
39 seconds
Although they were great, the one who stood out for me was the afternoon drive guy - Frankie Crocker.
I remember running home from St. Agnes High to check out my radio at 3 o'clock. That's when Hollywood Frankie Crocker signed on the radio.
He would begin with a pre-recorded drop that said "There are seven wonders of the world, you're about to be entertained by the eighth...do it Frankie, do it to it."
Listen to Frankie Crocker open his show
2 minutes 14 seconds
He had the ability to draw you close to the radio. He made you feel like he was talking to you and only you.
When I decided to embark on my broadcasting career, I just knew one day, I would work for and with Mr. Frankie Crocker.
I'll never forget when I tried to get an interview appointment with him at the number one station in New York, WBLS.
I camped out in the lobby of the building on Second Avenue until he met me. After a few tries, I got to see him and talk to him. Basically, he said "go out and get some more experience."
I had already dj'd at WNJR in Newark, NJ, WBMX in Chicago, and 92 WKTU in New York. But to work for the program director Frankie Crocker, you had to be very polished. So I went to Jackson Mississippi for a couple of years to get "the shine."
I then sent Mr. Crocker a presentation by way of another friend who was already in New York at another station. This person hand delivered my package to Frankie.
Frankie heard my presentation, and called me immediately with an offer I couldn't refuse. I prayed for this to happen, and it did. The rest is history.
Listen to Frankie Crocker close his show
4 minutes 34 seconds
See the Frankie Crocker Poster that Shocked New York City
From 1979 to 1984, I worked primarily for "the chief rocker" at the number one rated "The World's Best Looking Sound," WBLS.
This is a short didi about my mentor. The person who influenced my life, in such a way that I became more confident about myself and my craft.
He taught me about the work ethic and self esteem. That it's alright to love yourself "then Cleo you can spread it around."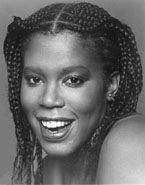 written by
Cleo Rowe
(1954 - 2010)
Listen to Frankie Crocker talk with Bobby Colomby of Blood Sweat & Tears
Exclusive re-mix from the master tapes produced by PowerhouseRadio.com
14 minutes 59 seconds