Shalamar - Jeffrey Daniels, Jody Watley, Howard Hewett
The official Solar Records biography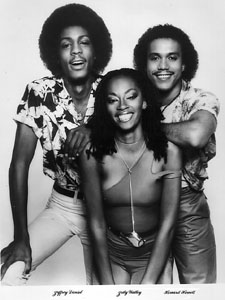 Jeffrey Daniels, Jody Watley and Howard Hewett comprise Shalamar, an exciting vocal/dance trio on Solar Records, distributed by RCA Records.
The world may best remember Shalamar for "Uptown Festival" and Shalamar's "Take That To The Bank," the avant garde disco hits that took the nation by storm, emanating virtually by word of mouth through the meticulous neighborhoods of Dance, into the swank discotheques and up the national music charts -- quite a feat for an act that has been on the scene for less than two years.
Now Shalamar wants you to have "Big Fun," an invigorating, illuminous musical fantasyland of an LP that establishes this band as a true musical force... fortified by the hit single "The Second Time Around," lifted from the "Big Run" album.
And don't use the disco handle too loosely here, for Shalamar offers the fluttering essence of contemporary music-lively disco, mid-tempo R&B/pop mixtures and sultry ballads, all in one special helping. The Shalamar story is of the glittery stuff exciting Hollywood glamour tales are made of.
It begins with Jeffrey Daniels and Jody Watley, long-time sweethearts and heartthrobs of Don Cornelius' popular "Soul Train'' television series, where Daniels and Watley were dance partners.
Word trickled down of Cornelius' intentions to form a vocal group, and with the on-air popularity of Jeffrey and Jody already bubbling over, the auditioning and selection of the duo was a natural.
With the addition of vocalist Gerald Brown, Shalamar was complete, and promptly segued into the success of "Uptown Festival," with Shalamar then recording for the Soul Train label.
With "Disco Gardens," their second LP, Shalamar experienced a slight renovation. First they teamed with music magnate Dick Griffey and his Solar (Sound of Los Angeles Records) label.
Gerald Brown left the group for other projects and Shalamar added Howard Hewett who has been a member of several up-and-coming musical aggregations. Many may doubt Shalamar's musical credibility simply because of its storybook beginnings.
Nevertheless, what you see is but a small portion of what you get. Los Angeles-bred Jeffrey, in addition to sharing lead vocals for the group, is also a multi-musician, able to hold his own on drums, bass guitar and keyboards as well.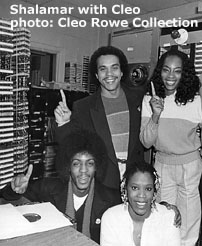 Likewise, Howard, originally hailing from Ohio, is an extremely accomplished musician with several instruments to his credit, most notably bass guitar.
Jody a native Chicagoan, who used to spend her time at home pantomiming in the mirror to the latest releases, sings lead and background, in addition to coming up with some of the trio's fanciest footwork and costumes.
Jeffrey, Jody and Howard do admit that theirs is a chance that comes along to very few, but all also realize this gift of an opportunity opens the majestic door to a long-term career.
"Personally," beams Jeffrey, "I would like to become an entertainment standard -- one of those entertainers who is known for giving his all over a lifetime of showbiz. I'd also like to learn more about the business and develop my skills as a songwriter and musician. Shalamar will give me that chance."
Howard would also like to further his experience in entertainment; for him Shalamar is the topping on a singing career that commenced virtually at twelve. Jody, probably the most business-minded of the troupe, dreams of a chic dress shop she'd like to open, only after her musical career is in full swing.
Those things are in the future. Right now the musical threesome is eagerly looking forward to the thrills, spills and excitement that come along with "Big Fun."