Teddy Pendergrass
Official Biography (released prior to his album TP)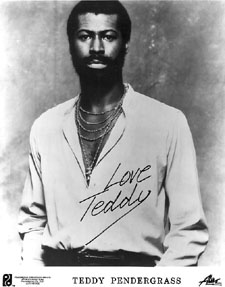 Teddy Pendergrass enters a new phase of his spectacular career with his new album, TP.
Having conquered the worlds of hit records and live performance, Teddy is, with this new album, becoming more and more involved with the material and production of his recordings.
With a wallful of platinum albums behind him, Pendergrass has, in his own words "gained the confidence to be more than just a singer" while cutting his records. He has even co-produced two tracks on the lp, and the result is quite simply the best Teddy Pendergrass album yet.
TP opens with the Ashford & Simpson tune "Is It Still Good To Ya," which features Pendergrass singing with the kind of ferocious power and emotion that is almost never heard in a studio recording.
It's Teddy Pendergrass at his upbeat best.
"Feel The Fire" is one of the two songs on TP which Teddy has recorded with Stephanie Mills. It is a five minute drama, a song pack with so much steaming tension that it practically raises the temperature in any room in which the song is played. The track was co-produced by Teddy, as was "Can't We Try."
The album's second Ashford & Simpson song, "Girl You Know," is a bouncy pop song about a man who knows he's got a special lady interested. It's a song that Teddy has a special affection for, an affection that audiences are sure to share.
TP closes with "Let Me Love You," a haunting song which ends with an eerie synthesizer figure which at times perfectly approximates the sound of one of the backup singers.
Following a break of a few months after a long tour of the States in support of the Teddy Live! Coast To Coast album, and with the producing of TP behind him, Teddy Pendergrass will again hit the road with a brand new show based around the songs from TP and a selection of old favorites.
Certain of gaining the respect of his audiences and peers for his new, more personal recording style and procedure, Pendergrass will be branching out into other exciting areas of the entertainment business.
Songwriting, more producing and arranging, acting and a participation in the revolution in home video are all areas of involvement which are the next stops down the road for Teddy Pendergrass.
Teddy has been singing since the age of two; he was an ordained minister at 10 and a self-taught drummer by age 13. Later Teddy sang in the citywide McIntyre Elementary School Choir and the All-City Stetson Junior High School Choir in northern Philadelphia.
As a teenager, Teddy was lead singer for a local Philadelphia group, but decided not to pursue a singing career after being "taken" by a local record-producing slickster who, claiming to be James Brown's brother, promised him an illustrious recording career that never materialized.
Disillusioned, Teddy turned to performing as a drummer with another local singing group, the Cadillacs.
It was as a drummer that Teddy first met Harold Melvin, lead singer with a group called the Blue Notes. Having lost their back-up band, the Blue Notes recruited the Cadillacs, and with them came drummer Teddy Pendergrass.
In 1970, during a tour with the French West Indies, Teddy got the opportunity he had waited for. The Blue Notes broke up and several new people joined the band. Teddy was a natural lead vocalist of the newly restructured group, and so the Blue Notes were reborn.
In 1971, the band signed with Philadelphia International Records. Their first release for the label, I Miss You, officially introduced Teddy Pendergrass to the record-buying public. Their response to the record was phenomenal, as were the reviews.
With Pendergrass as lead singer, a string of Blue Notes hits were to follow:
"If You Don't Know Me By Now" (1972)
"The Love I Lost" (1973)
"To Be True" (1975)
"Bad Luck" (1975)
All certified gold. Then came the release of a new Blue Notes album, Wake Up Everybody. The lp was to be Teddy's superb farewell recording with the Blue Notes. Following the widely publicized Blue Notes split-up in 1976, Pendergrass resigned with Philadelphia International Records. His first solo effort, Teddy Pendergrass, was released in 1977. It was huge success, and included the singles:
"I Don't Love You Anymore"
"You Can't Hide From Yourself"
"The More I Get The More I want"
All were disco hits as well.
In spite of his spectacular rise, Teddy keeps his career in perspective. Realizing that the world of an entertainer is more than just bright lights and glamour, Teddy has formed his own company, Teddy Bear Productions, Inc., of which he is chairman and president.
He has also taken on the high powered management services of Shep Gordon's Alive Enterprises in Los Angeles. Comfortable with his success and at ease with his enormous popularity, Teddy Pendergrass graciously accepts his sex symbol status.
When performing, he treats his adoring fans to a loving, and yet unassuming display of sensuality and song. Pendergrass turns on audiences with his electrifying and unpredictable style, and leaves them standing in the aisles in frenzied hysteria, shouting of for more.